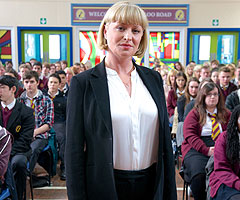 Waterloo Road, Series 9
Waterloo Road, now in it's ninth series, returns to BBC1 on Thursday 5th September. Series eight concluded in dramatic fashion when regular character Tom Clarkson (Jason Done) was killed when he was pushed from the school roof by Kyle Stack (George Sampson). In the new series the school is still in mourning for Tom, especially Kacey Barry (Brogan Ellis), who is struggling to cope without the teacher.
New characters will include teenage twins Lenny and Lisa Brown, played by Joe Slater and Caitlin Gillespie, and recently-qualified science teacher Sue Spark, played by Vanessa Hehir. Lenny and Lisa will feature in episode one of the new series with Audrey McFall, played by Georgie Glen, as she suspects they are being neglected at home.
Mark Benton, whose popular character Daniel 'Chalky' Chalk left Waterloo Road for a new job in London, will also return to the show for an undisclosed number of episodes.
Other storylines in the new series will explore how new Headmistress Christine Mulgrew, played by Laurie Brett, is settling into her role, while Deputy Head Simon Lowsley, played by Richard Mylan, hides a secret which could affect his career and unsettle the staff.
Read more about the show:
Shed Productions website, Official Waterloo Road website, Waterloo Road on the BBC.