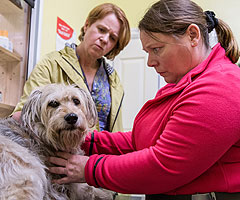 Puppy Love
Puppy Love is currently airing on BBC4. Written by and starring Jo Scanlan and Vicki Pepperdine, co-creators of the BAFTA nominated "Getting On", Puppy Love is a story of love, dogs and the love of dogs. Set around The Wirral-based dog training classes run by the formidable Nana V (Jo Scanlan) - "For All Your Dogging Needs".
Puppy Love follows two very different women - Nana V and Naomi Singh (Vicki Pepperdine) as they navigate their headstrong dogs, impossible teenage kids and disappointing husbands.
The BBC's Shane Allen says: "Puppy Love both celebrates and sends up the deeply held relationship between dogs and their owners. This is a real passion piece from Jo and Vicki who have yet again succeeded in creating a wonderful set of characters."