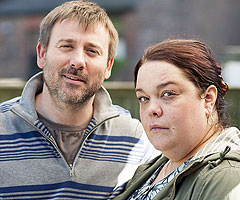 Moving On 6
Created by EMMY and multi BAFTA award-winning writer Jimmy McGovern, the Moving On series includes five stand-alone dramas featuring a plethora of famous faces including screen legend Hayley Mills, with Lisa Riley, Kenneth Cranham, Peter Egan, Neil Fitzmaurice, Wil Johnson, Charles Venn, Anna Crilly, Katy Carmichael, Dominic Carter, Chris McCausland and Graeme Hawley.
Produced by LA Productions for the BBC, the series explores contemporary issues, all linked by the common theme of characters who reach a turning point in life and then move on. With 5x45 minute standalone dramas broadcast over a week, Moving On is reminiscent of the Play for Today. In 2013, it was the first series ever to have been premiered on the BBC iPlayer.
Previous episodes have been directed by Robert Glenister, Dominic West and Johnny Vegas and have starred Corin Redgrave, Sheila Hancock, Anna Massey, Ian Hart, and Lesley Sharp.
The show aired in November 2014.
Read more about the show:
LA Productions website, Moving On on the BBC.